Overview
Helpwise integration with OnePageCRM allows you to track real-time contact or lead information directly from your Helpwise account. Create a new contact or deal in your OnePage CRM from Helpwise and associate the contact/deals with the conversation.

Learn more about Helpwise - OnePage CRM integration
How to Configure Helpwise's OnePage CRM Integration?
To configure this integration, follow the steps below:
On OnePage CRM:

Step 1:
Log in
to your OnePage CRM account.
Step 2:
Go to 'Profile' at the top and select
Apps and Integrations.
Step 3:
Click on API from the menu displayed.
Step 4:
Click on 'Generate API key' and copy the API key and User ID.
On Helpwise:
Step 1:
Login into your Helpwise account.
Step 2:
Go to the Automation menu and select Integrations.
Step 4:
Enter your User ID and the API Key and select the inboxes in which you want to access OnePage CRM contacts, and then click connect.
Step 5: You're all set! Start using OnePageCRM from the integration side panel on the selected Helpwise Inboxes.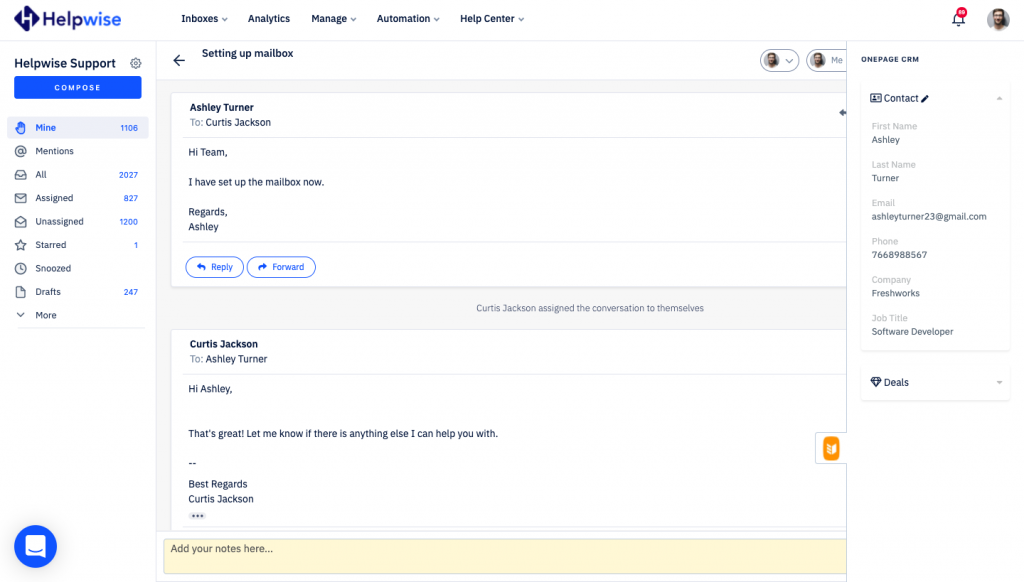 Start using Helpwise's OnePage CRM integration to efficiently collaborate across your teams!

If you have any queries about Helpwise's OnePage CRM integration or anything around Helpwise, feel free to contact our live chat support or email at
help@helpwise.io